Hi, I'm Brittany…
Ever since I was little I've been entirely consumed of the idea that a camera can bring a person to life, both the one in front of it and behind it. That it can completely transform a person's perspective and truths. That it can tell a person's story without saying a single word. And that, no matter how ugly the world may seem, there is always a little beauty in everything.
I've always had a chameleon soul, forever changing directions and perspectives throughout life. I can be one hundred percent about one thing and change my mind in seconds. It's the way I've been for as long as I can remember, but it's not something I categorize as a bad thing. Through the uncertainties, I unveil the constants. Like film for example. Film has always kept an important place in my life because it is something I've always remained passionate about. It has gotten me through the worst of times and shown me I will never be alone in my doubts or confusions of this world. It has shown me the pleasures in simplicity and the perpetual magic of storytelling. It has taught me what it means to dream and desire in infinite amounts. I love film and have since my bike possessed training wheels, but I never saw myself pursuing a serious career in it. Until now…. until Jtwo.
When I found out about Jtwo on Internships.com, I thought it's too good to be true. They produced documentaries and worked with non-profits (two components I always hoped to incorporate into my work life), they created sick ass animations for IMPORTANT causes, AND they shared relationships with thousands of people all over the world. Their stories were passionate and gravitating. I saw myself in their projects and what they stood for, and wanted so badly to be a part of them.
When I applied to Jtwo it was on a complete whim, with expectations lowered and realities raised. I never expected to have an opportunity with an award winning company as such. When I received the email that I had been chosen for the spring semester internship, I was shocked. Thrilled and excited…but ultimately shocked. However, mostly eager to get to work and let my creative juices start flowing.
Accepting the internship with Jtwo was a euphoric feeling, but anticipating the next steps made me nervous. I had never been a part of the professional film industry, so I was anxious to get started.
During my interview I became acquainted with Jelani and Justin but week one, I met the whole crew: Travis, Crista, Mika and of course, Nova and Griffey. Day one I'd gotten here early and met Travis, the first employee here. I sat on the couch and introduced myself. We started talking and I noticed a note on the speaker to my left.
So, that was the moment I realized I might die here…. at 11 S Strawberry Street, Philadelphia. This guys is serious as shit about his "nipple" and if I accidentally touch it, my life is over. So basically, I guess don't mess with Trav…
Everyone else seems like they want me to live though, so that's a plus!
Regardless of the murderous crewmember, I'm beyond pumped to start working at Jtwo.
In my internship, I plan to learn as much (+more) as I can. I want to focus on my weaknesses but enhance my strengths. I'd like to explore editing since I am not best familiar with Adobe Premiere as well as master the DSLR and its properties. I think it's important to improve my writing skills for the film and television industry, so that one day I can produce compelling documentaries and feature films. I plan to learn more about Jtwo's Projects That Matter initiative considering that is what pulled me to Jtwo initially. I want to meet new people, discover their voices, and bring their stories to the camera. It is extremely important that I make a difference in at least one person's life and I know Jtwo will help me start.
Here's to the next twelve weeks at Jtwo Films and becoming a stronger, smarter filmmaker!
"The virtue of the camera is not the power it has to transform the photographer into an artist but the impulse it gives him to keep on looking." -Brooks Anderson
Week 6 Blog "You don't stink, you suck!"
It's been six weeks and I'm still alive so thank the Heavens for me, please….
This process has been nothing short of a rollercoaster. I've had my lows where I thought, I'll never make it in this industry, but I've also had my highs where I've had the opportunity to travel to shoots, work with the other interns in improving our individual work, and get to know more about the team.
When I was assigned my introductory project to do a 90-120 second video on Mika Maloney, our non-profit consultant for Projects that Matter, I was eager to begin. After meeting Mika, it was a match made in Heaven! Both our hearts lay in philanthropy and our obsessions in shoes; it was clearly a perfect duo. I had three weeks to complete the project and I would finish in a breeze, with time left over, in tip top shape.
It's week six and my project's still on the chopping block…
I know what you're thinking, what an idiot. But excuse you for even doubting me. Here's how it all went down.
The beginning felt like a race among the other inters (Pat and Andrew) and I. We were given our assignments and sent off, only to come back with something mind blowingly amazing.
It didn't take long to disappoint.
Round 1:
If you guys could have seen Justin's face when I showed him my first rough cut of the video. Remember that time when you parked your (parents) car in your slanted driveway just after receiving your license and turning it off, only to realize you forgot to put it in park…the next day…when it's slammed head first into the garage. (Sorry, Dad) That look. The sheer face of disappointment. But, I expected it, honestly. I remember thinking, okay, he's going to shit on me. But if you're prepared, you can at least catch it.
I knew my footage was shaky and my video didn't exactly match the message Mika was speaking. I knew changes had to be made, but I didn't know HOW to make them. I wanted help, but I was unsure how to ask. I was scared.
Round 2:
I re-shot with Mika and was able to get some "better" footage…only to fail all over again. I remember Justin saying: "Now I'm even more confused with your project." Well, fuck. He sat me down and gave me some feedback. The reason I was assigned this project is because I'm a writer. I cancreate compelling stories that will hook audiences…why was I forgetting that?
Mika has gone through some backwards ass times in her life. She has held her husband's hand through emergency heart surgery, lost a dear friend to murder, and fought the excruciating battle of cancer. But I was not including ANY of this in her video. Why not? Isn't it important to know why a person does what they do, what guided them to their career in the first place?
Then I thought of something amazing….
Asking my co-workers for help!!!!!! For instance, maybe the fabulous cinematographer, Crista Pillitteri, could shoot for me on the FS7 camera that I was completely unfamiliar with. Uhm, what? IF I KNEW I COULD DO THIS, I WOULD HAVE.
And then there were Pat and Andrew. We struggled to work on our own projects individually, ignoring each other's convenient strong points. I was the writer, Andrew the editor, and Pat the producer. Together we were the dream team. BUT, of course we brushed this right under the rug.
Round Three:
We are finally getting somewhere, people. The project has come together quite nicely with a captivating script and footage to match. But now the team and I have decided to bring in a few new shots of Mika in a different environment, away from the chaos of the world. Crista and I will be shooting next week in Mika's hometown and I'm excited to learn more about where she comes from.
The truth is, I got lucky. I was nervous to show Justin my rough cuts because I didn't want to recognize that I could do better than this. Which is weird. Usually when you can do better at something, it motivates you to work harder. But sometimes, people are afraid to see all that they are capable off. It rests outside of their comfort zones.
Moral to the story: FEEDBACK IS YOUR FRIEND. Whether it's "this fucking blows" or "I'd rather listen to my grandma talk shit about her hairdresser than watch your project again", it helps you eliminate bad choices you've made and make room for the good ones. I can't let it discourage me if it's in fact helping me.
I'm grateful for the past six weeks and the experience I've gained along the way. I am learning so much each day and it feels great. I hope these next few weeks don't go too fast. I'm not ready to leave these guys. Or Nov and Griff…
Final Blog "Intern Out"
If I'm writing this, it means it's over and I don't want it to be over…not yet.
It seems like just yesterday I started my journey with JTwo. I cannot believe that twelve whole weeks have already flown by. But wait, that makes no sense, I thought time only flew by when you were having fun…? I'm KIDDING…relax.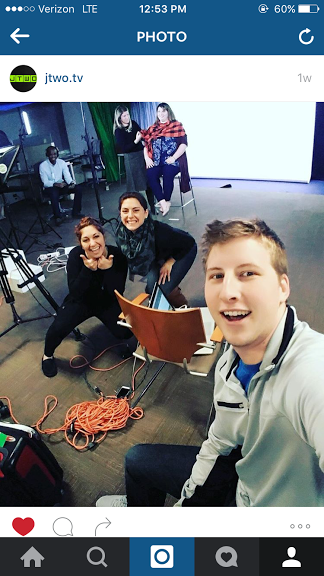 I'm so beyond lucky to have been given the chance to intern at such a hardworking, passionate, and experienced company. There was never a day that I didn't want to come in to work. Travis, Justin, Jelani, and Crista, these guys all make the workday something exciting, fun, refreshing! They are a unique clan and I'm going to miss them beyond words.
When I started working here, I wasn't sure what to expect. Every internship tells you, you won't be making coffee runs, or answering phone calls all day, or sorting through a six foot stack of UNNECESSARY papers until your knees are weak and fingers, bleeding. Yes, unfortunately, companies lie to us (the interns). You see, we're not important to them, we're young, naive…stupid.
But, JTwo came up with this amazing idea…why don't we actually teach the interns something valuable so that they can succeed in a career, just like we are now!? And so, they did; and the knowledge I've absorbed in this short 12-week period, is incredible. I am so grateful.
When I interviewed with Jelani and Justin, I told them I'd like to strengthen my experience in post-production since I wanted to be an editor. If someone could have punched me in the face right then and there, I would have thanked them. Editing….EDITING. No. Never. I've learned that the extreme attention to detail, long hours in front of the computer, and searching through footage until your face is numb just isn't what I always want to be doing. I give credit to all editors, Trav especially, because he's rocks.
What I really wanted to be doing, was writing. I didn't know that yet, but I would soon.
For my semester long project, Justin gave me the opportunity to write a field journal on JTwo's Projects That Matter initiative. In the beginning, I was super excited. I'd be able to interview some of their nonprofit clients, hear about the teams individual experiences with PTM, and all together gain a better understanding of this philanthropic program. But, I wasn't expecting such a major setback.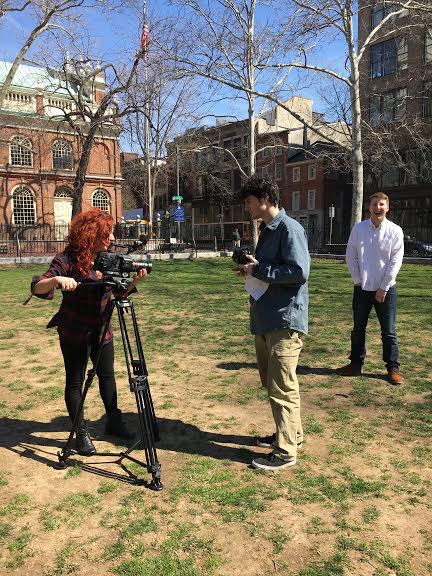 I love writing. It takes me to a better world, one outside of this crazy, overwhelming, loud one. I become the person I want to be when I write, free and expressive in all my natures. But one thing that absolutely sucks about writing, and I mean SUCKS, more than anything, is when you experience a block. And half way into my field journal, I hit one…hard.
I wanted to write something that the team would be proud of, something compelling and brilliant! But why would anything I have to say, be useful? I struggled with my limited knowledge on PTM and the fact that I'd only been a part of the initiative for a couple months. I didn't believe that my words would be appealing to anyone. But then, I realized I was overthinking it.
I had never worked on a field journal/ newsletter before, so I was naive to the entire process. Once I began interviewing clients and the team themselves, I felt much more comfortable with my writing. I knew what I was talking about now, and it felt good. Once I stopped panicking, everything fell into place. That's usually what happens with writing.
So, now that my projects are done and my time here has come to an end, I have some words of advice for the next interns…take it or leave it, it's your choice.
1. Don't wear black to the office unless you want to leave with mounds of dog hair swallowing your soul.
2. Be on time. 1) No one likes a bum. 2) Your time here is valuable and will fly by fast, take in every minute you can.
3. Make friends with the other interns, whether they smell or not. They are YOUR team, under the team at JTwo. If you want to succeed here, you'll have to help each other out. Plus, you're going to need people to vent to when the guys are
pissing you off.
4. Ask questions. I am 100 % sure Jelani, Travis, and Justin told you guys in the interview, "If you have a question, google it first." Although you should definitely do that, don't feel like an idiot if you have to double check with them. It's better to be safe than sorry.
5. Bring your own cup…just do it.
6. Write things down. Let me say that again. WRITE THINGS THE FUCK DOWN. There is nothing more annoying then having to repeat yourself.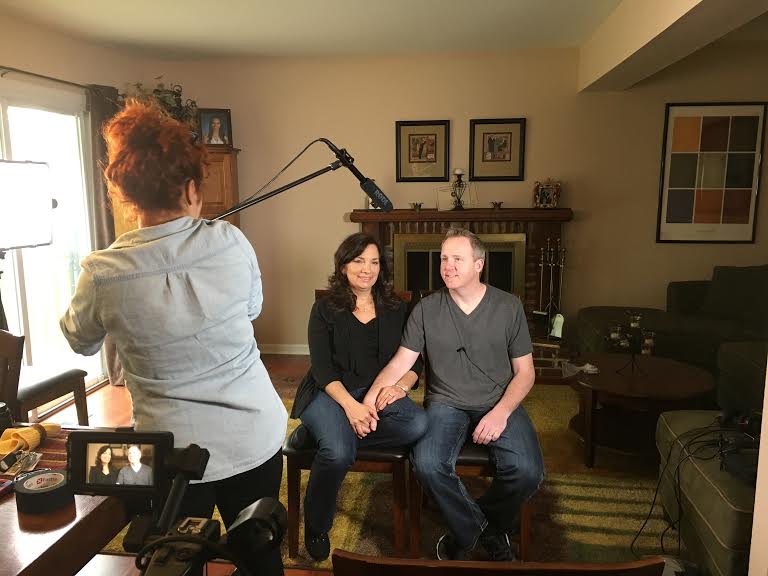 These guys hate that. If you have a question, there's a 90% chance that you are going to have that question again, so always write down the answer.
7. Be a sponge. Absorb everything and anything you can. Don't limit yourself to learning about only one part of production. Writing, editing, business planning, producing, directing…everything.
8. Work hard. 1) No one likes a slacker. 2) These guys chose YOU because they saw your potential. Don't waste their time by not giving a shit.
9. STAY ORGANIZED or Trav will actually murder you. I'm not entirely kidding. RIP Intern A, B, and C.
10. Have fun. This was one of the best experiences of my life. I can only wish the same for you.
I am so lucky to have had the opportunity to work with JTwo. I've learned so much from traveling to shoots, to writing scripts, to shooting on the DSLR and FS7. I have worked with the most amazing organizations met the sweetest people. I'll never forget my time here.
Justin, thank you for pushing me to write more and for teaching me the in's and out's of a writer's world. You've taught me more than you think. I'm forever grateful for that.
Jelani, thank you for always making sure I'm doing okay with my work/ life in general. You are literally the nicest guy in the world.
Trav, thank you for pushing me to be organized because I normally score incredibly low in that category. Also, thanks for that one time when you told me it's okay to ask for help, it changed this experience for me.
Crista, Pill, my friend, thank you for being a girl and being here. I have no idea how you survive with these guys on your own. And, thank you for showing me the aesthetics behind shooting. Your talent will never go unnoticed.
As for my intern crew, Pat and Andy, I'm going to miss your faces. Pat, I'll be contacting you when I need a 10 page business plan, and Andy, when I fulfill my skateboarding dreams and want to catch them on film.
You guys are all wonderful and I'm going to miss you beyond compare. Thank you for everything.
Video Project