---
INT. Pat's house – October 2015
Pat
I just applied for an internship at a
film production company and
I'm waiting to hear back. 
Mom
But you're a business major?

Dad
But you're a business major?
EXT. Chipotle – October 2015
Friend #1
But you're a business major?
(Pat starts losing faith and questioning life decisions)
INT. Pat's house – November 2015
Pat receives email from JTWO account manager Jelani requesting an interview
Pat
I got an interview with that
film production company in Philly!
Mom
(Looking surprised and confused)
That's great! What are you going to talk about?
(Pat looks into the distance as he turns pale, assumes fetal position and slowly dies)
This was the rough cut of how I ended up at JTwo and yes, I know what you're thinking, how could this kid not get hired?! His scripts are so well written! Contrary to popular belief, I was no shoe-in for this job, just a senior majoring in Entrepreneurship who liked to make Flyer's compilations on iMovie in his spare time, I had no business being in the filmmaking trenches, aside for my obvious passion for film. An avid film fanatic and casual film critic I have always been fascinated with cinema as a medium for storytelling. My plan for the interview was simple: make it painfully obvious that I have been dying for an opportunity like this. Either they believed my genuine plea or just felt bad for me. Frankly, I didn't care, all I cared about was that I got the job.
So, now for the juicy stuff. My first week at JTwo has consisted of me playing catch up, cramming key terms and trying (unsuccessfully, of course) to sound as knowledgeable as my fellow film-major interns; just trying to keep my head above water. Am I painting you a pretty picture yet? I swear it's not as arduous as my eloquent writing might have you believe. My first week at JTwo has been everything I hoped it would be, plus the addition of two adorable puppies to make the experience even more enjoyable. Justin, Jelani, Travis and Crista have been nothing but accommodating, encouraging us to pursue our creative visions and giving us complete artistic autonomy. It has already been a more enjoyable experience than my three previous internships combined which were highlighted by my boss bringing in free pretzels on Wednesdays. But let's be real, who doesn't like a Philly soft pretzel? Plus, you can get 3 for $1 if you're balling on a budget. If you're still reading, I commend you.
The worst part about this internship is the fact that I still have to go to school three days a week. And while I enjoy learning about acid-test ratios and liquidity warnings as much as the next guy, I'd much rather be here creating and discussing Philadelphia's grim sports outlook with my co-workers. I hope to leave (jk I'm never leaving) JTwo with a better understanding of the filmmaking process, from ideation all the way to post-production and all the mess in between. I hope this post was insightful and if not,you can show this to your friends and laugh, I won't be offended. Luckily for you, I'll be back in a couple weeks, hopefully the Sixers will have five wins by then..
Below are some pics if you care (trust me you'll want to see one of them)
This beauty was found on the computer I'm currently typing on. I know, why didn't they try to hide this better?? Might get fired for posting this, but it will be well worth it, hopefully you agree.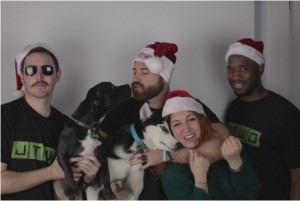 …and this is how I justify eating Chipotle three times a week